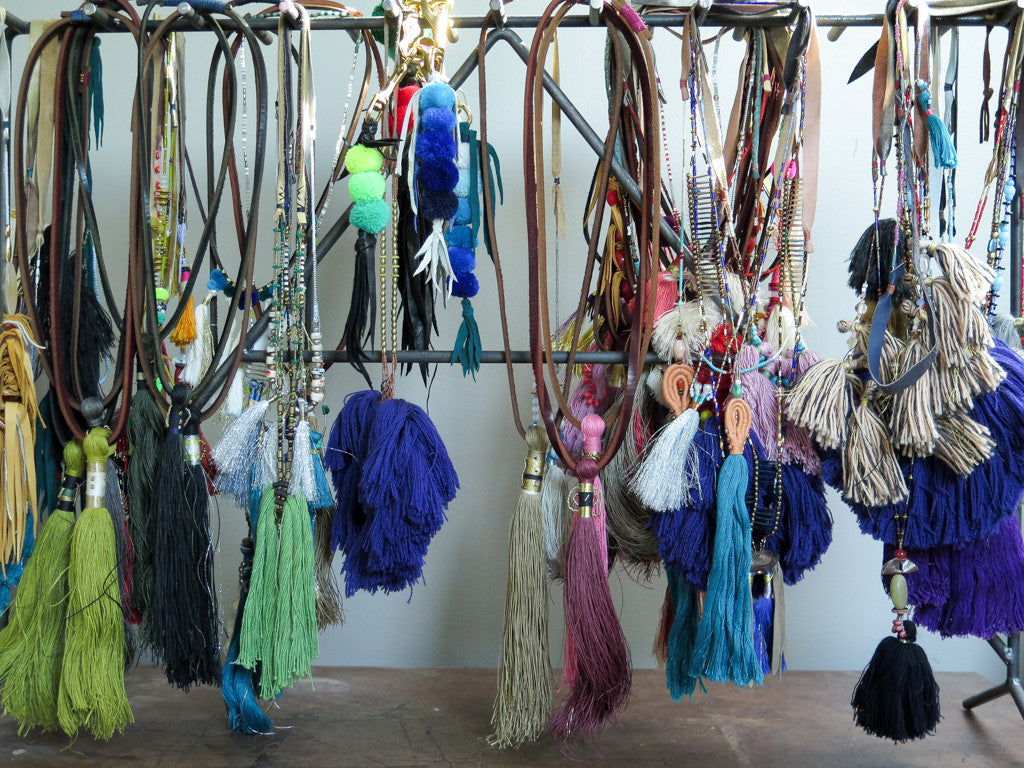 Studio Visit With Ariel Clute
Ariel Clute is an artist living and working in Oakland, California, with her husband and three children. We spent the morning visiting Ariel's home studio to learn more about the process behind her namesake jewelry line, and found ourselves engulfed in inspiration- boxes of mid-century beads and sequins, vintage Japanese thread, and beautiful ceramics adorning the shelves and walls of her upstairs loft. Every piece of Ariel's collection takes on its own life, coming together in an organic way and thoughtfully pieced together with time, when the right moment or material comes along to complete it. Colorful, material-focused, intentionally made- it's easy to see why we are so drawn to the work of Ariel, and so excited to welcome her pieces into our stores and web shop this spring. Thanks, Ariel!
ET: Can you tell us more about your creative path? How and when did you start making jewelry?
AC: I always have something going on or in the works. I got my BFA focusing on painting and printmaking, but I've always loved intermixing mediums and playing with new materials. When I graduated from CCA I worked at Creative Growth where I met my husband, Wylie. It was not until I had Talula, my first daughter, that I started my jewelry. The beginning began as a personal outlet where I had been gathering with a group of close women friends to work on art projects together. One night I brought my box of beads that I had kept since I was a child, some which I had collected or found when traveling in Asia, and others passed to me from my mother who had done a great deal of beading when she was younger. Up until this point 4 years ago I had mostly painted and collaged as my studio practice, but I kept with the beading...playing around and having fun. It was easy to not let it be stressful and to be able to set it down and come back and to be able to pick up form where I left off.
ET: I know that a lot of your materials are vintage, dead stock, and naturally dyed. Can you talk about the importance of materials for you personally? Does the material dictate the direction that each of your pieces take?
AC: Often the material will guide the work. Whether it's a tassel I made or specific beads I've found, I admire all the imperfections the antique beads have. Similar to the African beads. The beauty of the imperfect helps me not over think it. The quality of the older materials is also outstanding, and gives each piece its own story.
ET: What has been your favorite material or process that you've experimented with so far?
AC: I have really enjoyed creating the large sculptural pieces. I can really experiment with color, texture, beading style with these works. Similar to the jewelry, they hold a lot of energy. I think of them as pieces to adorn your space with...to celebrate life and whatever personal connection you place with the piece.
ET: Do you have any working/creative rituals that you'd like to share?
AC: I feel my studio practice right now is very askew and I haven't been in a regular routine. When I am able to focus, though, I usually have multiple ideas going that I bop between.
ET: You worked for Creative Growth for many years before having children. How was has your time there creatively impacted you the most?
AC: I was at CG for 8 years, which definitely impacted me as a person and artist. Teaching in such a creative environment among a staff of working artists was amazing. I learned so much. I was surrounded by an array of artists working in all mediums- fiber, ceramic, print, rug weaving, video- and working with nontraditional methods where everyone is truly exploring the material and their many uses. Being in that environment really encouraged my own exploration into new materials and working with fiber and textiles for the first time.
ET: You and Wylie just opened a new project space. I'd love to hear more about that.
AC: In September Wylie took over the space at 2278 Telegraph. It's a wonderful space that he currently occupies as his design firm. But it is slowly transitioning. The space is going to be a design and furniture showroom called Cords, but also a space to cultivate creativity outside of Wylie's own work. Over the holidays I hosted a group of friends and was honored to highlight their work, and hope to do it once or twice a year. Wylie is planning on having 5-6 shows a year at Cords featuring furniture designers and other artists. We are working with Tessa Watson and Kelly Best, and have a show pending for March, so stay tuned!
ET: You have a 5 1/2 year old daughter and just recently had twins. How do you maintain balance family life and your creative career? Can you pass along any words of advice to other women working in creative fields?
AC: Yes, I just had identical twin girls. They are almost a year! Which has gone by very fast and has had its creative struggles. I was able to get more accomplished when they were smaller and I worked at the kitchen table during naps. Now they nap less and are always moving, so I try to set week long goals and push myself when I'm too tired. Now, most of my work is done in evenings once the three are in bed. For me, it's important to stay connected to myself and who I am, so I need the creative outlet to balance being a mother and keeping me feel fresh.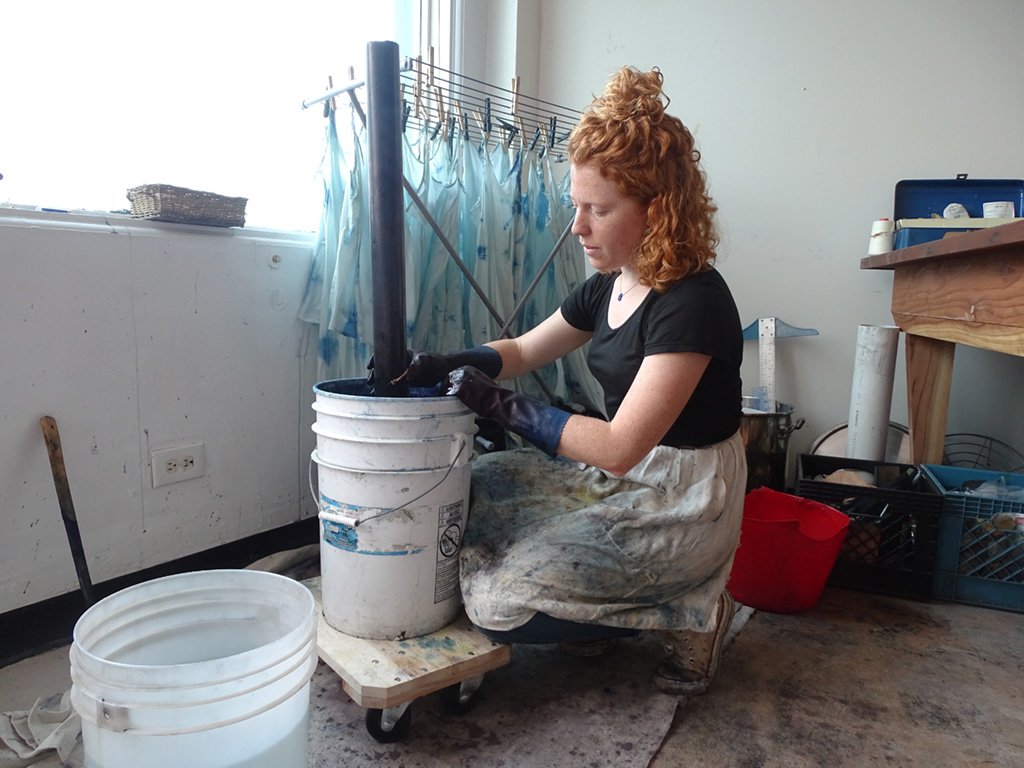 One of the most rewarding aspects of what we do at Erica Tanov is having the privilege of working alongside many talented women, and creatively collaborating as much as possible. This season we are...
Read more