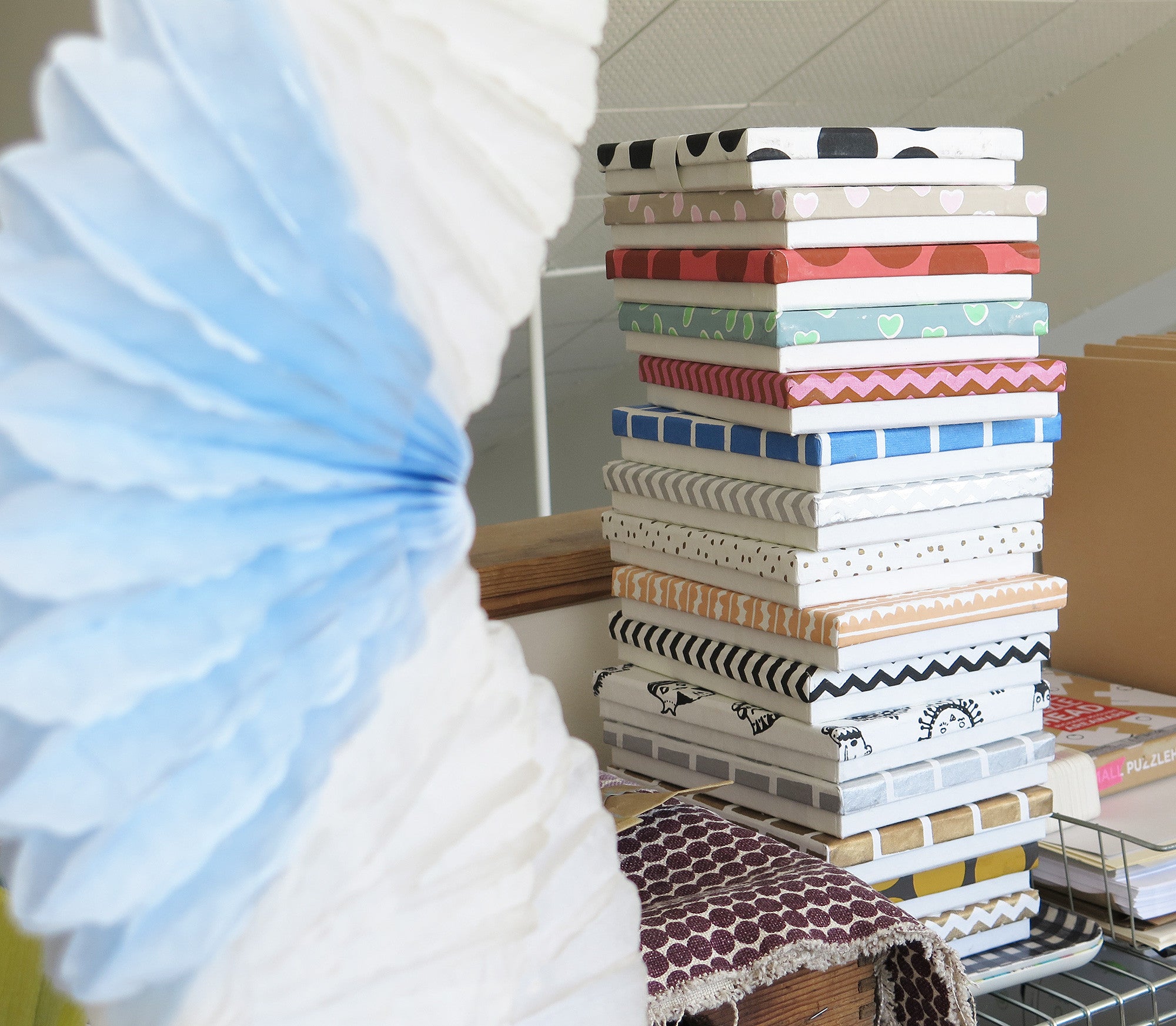 An Afternoon With Hiroko of Hataguchi Collective
Hataguchi Collective is the paper and stationary project started by our very own Hiroko Kato. With prints that resonate deeply with Hiroko's Japanese upbringing and techniques that were inspired by a trip to India, Hataguchi Collective has presented Hiroko with a limitless outlet for channeling her influences and creative energy. Each card is made completely by hand- first designed and painted in her home studio, then sent to India to be screen printed and hand-dried in the wind on recycled paper. We met with Hiroko and her twin toddlers, Haru and Kiko, one sunny afternoon in her Emeryville loft, to learn about the history of Hataguchi Collective and what she's learned while navigating being a working, creative mother to two.
Shop Hataguchi Collective online, here.
ET: Can you tell us how Hataguchi Collective started? Where does the name come from?
HK: I was on a trip through India and in my travels, I came across these paper artisans. They would take discarded hosiery and recycle the fabric, turning it into paper. They print those recycled paper through traditional paper printing techniques. I loved how tradition crossed paths with Eco-conciousness, and wanted to support them somehow.
Hataguchi Collective features modern designs on paper made with age-old techniques. Hataguchi is my grandmother's family name and it was going to end with her. I didn't want to see that part of my heritage disappear forever, so I decided to name the business after her. She's still very much alive and kicking at 92 years of age, so I believe the name bodes well with the future of the Hataguchi Collective, too :)
ET: What does the creative and production process look like?
HK: I love uniformity and symmetry, so I keep the designs simple, since the printing and drying processes are all done by hand and don't have the precision of machines. In the simplicity of the patterns, unique irregularities due to a particular sheet's texture can shine, and I find that beautiful too.
The same observance for natural imprecision applies to another technique that we use called khadi printing. I create the patterns with rubber stamp or water color myself, taking care to keep it simple so that the vibrance and beauty from the printing technique can shine through.
 ET: Do you have any working rituals or special routines that you practice while working?
HK: I make tea and drink it out of my favorite cup.
ET: I loved the Chinese Joss paper (decorative paper used as fake money in Chinese burial) that you have on your pin board. Where else do you draw inspiration from for your prints? Do any of your prints have special meaning for you?
HK: I draw on visual themes that have been recurrent in my life, or that have meant something to me. Take our new pattern, MIEKO, for example. Mieko is my grandmother's first name, and the pattern draws inspiration from the flowers that were used in traditional Japanese Chiyo paper prints; flowers that my grandmother used to fold little origami versions of for me when I was a young girl.
ET: Switching gears, you have twins that are almost three years old! We have a lot of working-artist mothers in our ET family, and I'd love to know how you balance it all. How do you create time to focus artistically while being present for Kiko and Haru?
HK: When I became a mom, I realized that I had to grow and expand as a person if I was going to raise two little people. I don't just mean that I needed to become more patient or more giving; I felt that to be truly self-sacrificial, I needed to first define and expand who I am as a person, so that there would be more of myself to give.
It's hard to only realize that after the two little ones came into my life, but they were also the motivation and inspiration that I needed to keep on keeping on at what I wanted to accomplish. I also get lots of support from my incredible mom friends who are working hard at being the best mothers they can be without making the mistake of neglecting their own growth and desires.
I still don't consider myself an artist, though. I just like making things, really.
ET: What has been the most exciting part of life with the twins so far?
HK: There's always something that they're experiencing for the first time, something that you're doing together for the first time. And as they develop into little people with their own characters and thoughts and preferences, even mundane activities become interesting when you see how their responses develop and changed. Over time, you look back and you're just amazed at how much they have grown and evolved.
ET: Are you working on any new projects or products for Hataguchi Collective that you'd like to share?
HK: There's always something new in the works! Right now, I'm pretty excited about the money envelope I'm working on, otherwise known as pochibukuro in Japanese, which is a monetary gift given at special events or celebrations. You'll also see a hanging star lantern at some point down the road, and all this is in addition to the new prints I'm currently developing. I'm also trying to get an online shop up and running by the end of the year, so please stay tuned!
Thanks, Hiroko!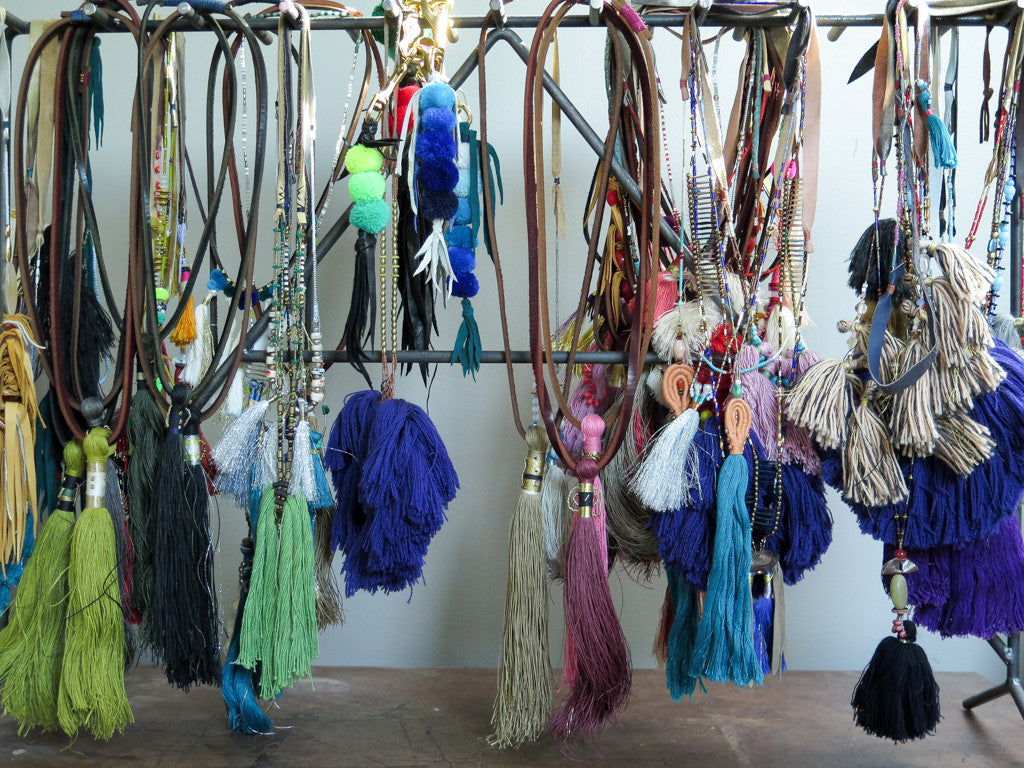 Ariel Clute is an artist living and working in Oakland, California, with her husband and three children. We spent the morning visiting Ariel's home studio to learn more about the process behind her...
Read more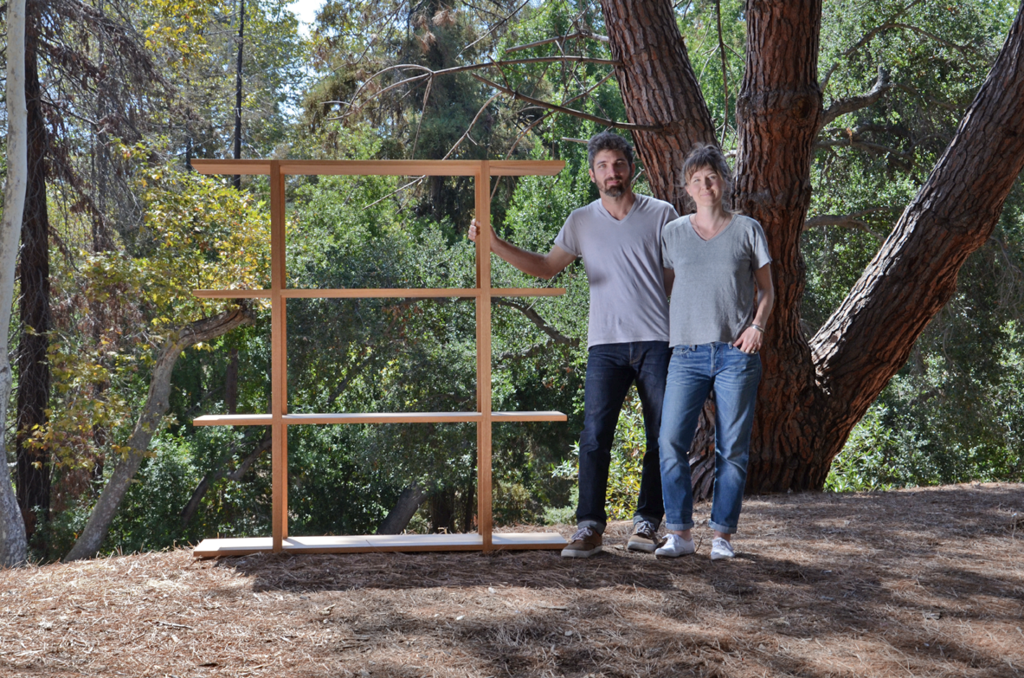 Joshua Friedman and Lindsey Muscato are the husband and wife duo behind Los Angeles based furniture company, Base 10. Lindsey, a long time friend and past employee, has exhibited her own work in ou...
Read more